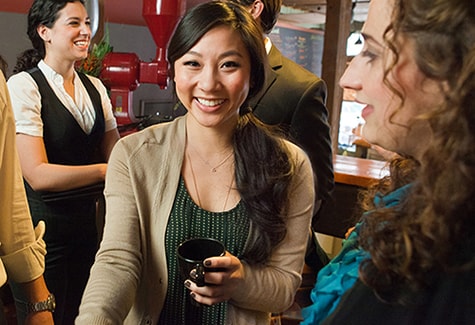 Every journey has a destination. Your journey through Toastmasters—from delivering speeches to acquiring leadership skills to mentoring others or even becoming a professional speaker—will lead to a place of experience and confidence from which you'll turn goals into realities.
And you won't be alone. Along the way, you'll become a part of a supportive group of people in your local area who share a common desire: to improve communication and leadership skills through practice, peer feedback and objective evaluation.
You'll also become part of a worldwide organization dedicated to supporting members and constantly improving the Toastmasters experience.
If you've found a Toastmasters club that you'd like to attend on a regular basis, it's time to take advantage of the benefits of membership.
Let your journey begin.
Find a Club
Find a club that meets your particular needs and preferences.
Pathways Learning Experience
Learn more about Toastmasters' new education program.


The education program enables you to develop your communication and leadership skills one step at a time.

Find tips and techniques to deliver successful speeches, no matter the occasion.

Learn about the various meeting roles you can take on during club meetings.